Mr. Richard Madiebo  is the Head, Retail Banking, Fidelity Bank Plc. In this interview, he discusses recent trends and major issues in retail banking as well as the effectiveness of promotions to encourage savings culture. Excerpt:
By Babajide Komolafe
WHAT would you consider as the major trends in the retail banking space?
The major disruptor in this area would be Technology. We have seen an increase in the use of technology in driving Retail penetration in the market place. When we consider that this business is generally mass market characterized by low margins, the ability to efficiently deploy and manage the process digitally could very well be the difference between a viable and an unviable proposition.
What are the new area of opportunities in retail banking and how is Fidelity bank exploiting this opportunities?
The opportunities around the financially excluded are one that we and several other players have realized and there is a deliberate attempt at growing our footprints there. We have leveraged our processes as well as technology efficiently here.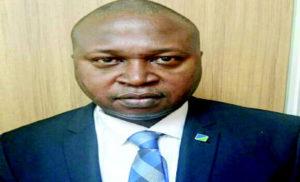 Our use of unstructured supplementary Service Data (USSD) technology in growing the acquisition of customers here also mirrors our understanding that while mobile penetration is over 120m , with several phones not being data enabled, the need to bridge the gap for account holders, currently below 50% of this figure provides a huge lacuna that can essentially be addressed with simple but efficient processes and systems.
The quest for cheap funds has led to introduction of savings promotions in the industry. How effective is this strategy and what is the experience of Fidelity Bank in this regard?
Promotional campaigns have been used as effective tools to galvanize the buying public, not only in the banking sector but in general Retail business. Fidelity has, over the past 9 years, run several Savings promotional campaigns with effective results in the areas of general perception of our brand, customer awareness and rewards and (eventually) increased patronage. The goal of ensuring that customers are rewarded for being faithful savers in both service and material terms is never lost on us and that has always yielded mutually beneficial results.
How will you assess the response of Nigerians in diaspora to the introduction of diaspora related banking products?
We have enjoyed very good relations with various Nigerian Groups in the Diaspora and have always been amazed at their high level of interest in events in Nigeria. The introduction of innovative banking services, much like what they have been exposed to in their bases, has given them the opportunity to identify with Nigeria in a profitable way. We in Fidelity have designed several products both on the asset and liability areas to address this market and the feedback, especially in terms of patronage , has been exceptional
The post Technology is critical for viable retail banking operations – Fidelity Bank appeared first on Vanguard News.
Source: vanguardngr.com => Technology is critical for viable retail banking operations – Fidelity Bank